Clinical practice guidelines emphasize that clinicians and healthcare delivery systems should consistently identify and treat all tobacco users using available counselling treatments and medications. But, evidence alone is insufficient to change routine clinical practice. There is a need to alter practices so that smoking cessation support is systematically and easily provided to all patients who smoke as part of routine care.
The Ottawa Model for Smoking Cessation (OMSC) was created to address this need.
---
The Ottawa Model for Smoking Cessation:
► Is a validated, evidence-based process that uses principles of knowledge translation and organizational change to implement systematic approaches to smoking cessation within healthcare settings.
► Has been shown to increase the rates at which healthcare providers advise and assist smokers to quit; increase long-term smoking abstinence rates; reduce downstream healthcare use; and reduce premature risk of death.
► Results in the systematic identification, treatment, and follow-up of smokers as part of routine care.
► Is cost-effective, from the hospital payer perspective and results in reduced healthcare costs of patients who receive the program.
► Is adaptable for any type of healthcare setting and is currently being implemented in over 440 sites across Canada.
---
The essence of the OMSC can be understood in one simple equation: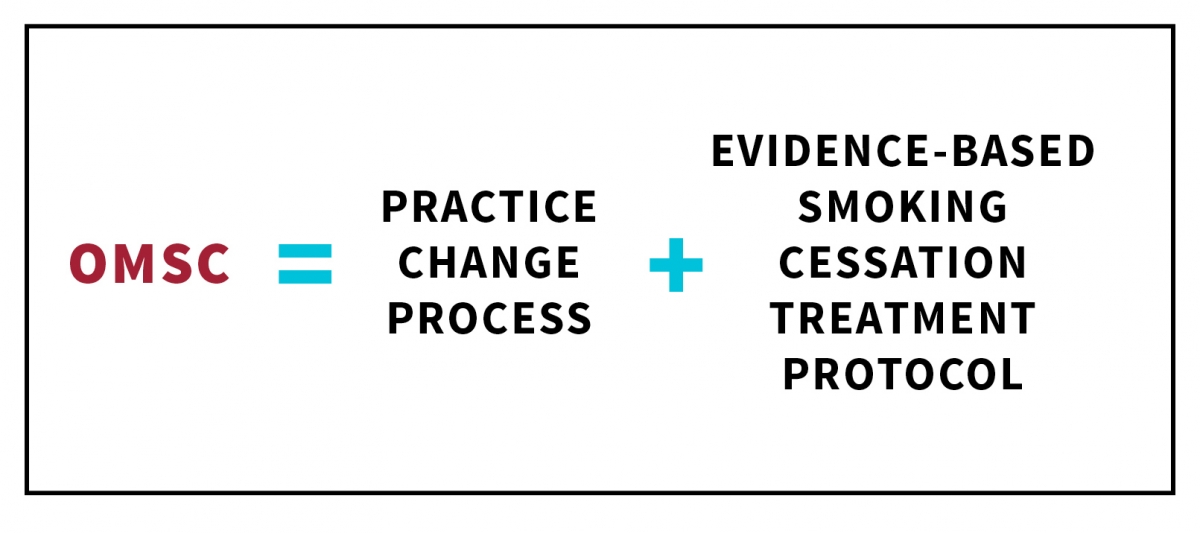 In order to bring about practice change, expert OMSC Outreach Facilitators work with sites to adapt clinical practices using a detailed six-phase OMSC Implementation Workplan. During the change process, an Evidence-Based Smoking Cessation Treatment Protocol is created specifically for each site. Once the smoking cessation program is launched, feedback and quality improvement processes allow the program to be refined and sustained.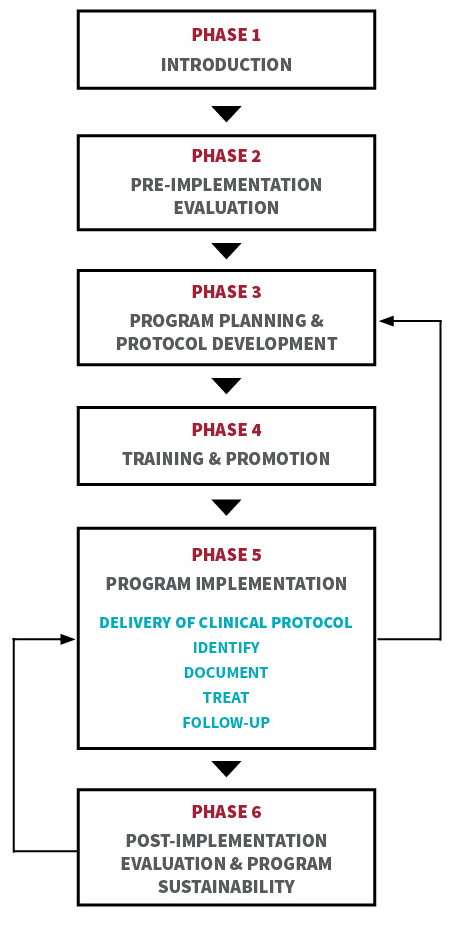 Developing the system that leads to the consistent identification, documentation, treatment, and follow-up of all patients or clients who smoke result in more quit attempts and, ultimately, more smokers becoming smoke-free.
---
For Inpatient, Outpatient, and Specialty Care Sites:
Please click the Apply Now button to be part of the OMSC in Primary Care program.
---
Supporting Documentation
Appendix A: Needs Assessment and Best Practices
Please note: One Needs Assessment and Best Practice Form is completed for each participanting site
Appendix B: Smoking Cessation Coordinator Job Description
Appendix C: Smoking Cessation Task Force - Terms of Reference
OMSC Program Summary
Please complete the application and email to: omsc@ottawaheart.ca. Only applications submitted by email will be accepted.