Adapting the Ottawa Model for Smoking Cessation for the Solo Practitioner
Approximately 200,000 family physicians from across Canada are solo practitioners who may not have access to resources available to larger clinical practices. Through an educational grant from Pfizer Canada Inc., the Ottawa Model for Smoking Cessation (OMSC) has developed the Effective Smoking Cessation in Primary Care (ESCAPE).
Hear from our very own Dr. Andrew Pipe on the importance of offering state-of-the-art smoking cessation interventions to patients who smoke.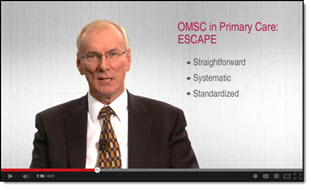 ---
What Makes ESCAPE Unique?
ESCAPE has been referred to as "OMSC in a box". It is designed to be an "implement-on-your-own" smoking cessation program incorporating key elements of the Ottawa Model but specifically crafted with the solo practitioner in mind.
This program provides the following features:
Specialized Training Modules
Program Overview (~40 min)
Strategic Advice (~12 min)
Smokers Not Ready to Quit (~10 min)
Quit Smoking Medications (~30 min)
Quit Plan Visit (~20 min)
Follow-Up Visits (~12 min)
Special Populations (~13 min)
Patient Case Study Scenarios
Video case studies are available to provide a variety of scenarios that solo practitioners may experience when advising their patients to quit smoking (i.e. ready to quit, not ready to quit, recently relapsed).
Tools and Resources
Provider tools are available for download in an easy to print format or to integrate into an electronic medical record.
Check out an article published in the University of Ottawa Heart Institute's The Beat newsletter regarding the ESCAPE program.